Whole Life Challenge Day 9 and Balancing Workouts
March 4, 2013
Holy moly was I tired this AM!  Great day yesterday must have tuckered me out and my body must have been dying for a good night sleep and a day off of CrossFit and running
  I have a good solid "rest day" once a week (and after my next half marathon am thinking of taking that to two days a week) where the most physically exerting thing I do is walk Mr. Beaus Beaus.  We try to walk for 45 minutes, but I usually procrastinate and we get in a 30 minute walk at most, or about 2 miles since we are both busy marking our territory along the way.  I joke!  Only Beaubie fills that role

See?
I used to be a bit of a workout-aholic.  You know, working out multiple times per day for at least an hour each time?  Not only do I not have the time for that, I also don't have the patience anymore.  Long runs drain my patience enough…that is why being able to run with Dani is a lifesaver!  I'd never make it all those miles without your entertaining conversational skills, Dani!  I also have a pretty consistent schedule, but this week and next I'm going to have to be a bit more diligent and flexible to accomodate the upcoming scheduling changes!  We have a trip to Napa/San Fran/Sacramento coming up and I can't wait!
Here is my normal workout routine:
M- 6 mile tempo run
(each week, my starting pace is slightly faster and I increase the pace every 1/2 mile [started at 7.9 mph today])
T- maybe 30 min of easy rowing or biking to help me wake up, CrossFit in the afternoons
W- maybe 30 min of easy rowing or biking to help me wake up, Group Fitness (usually a circuit workout or 5K) in the afternoons
Th- maybe 30 min of easy rowing or biking to help me wake up, CrossFit in the afternoons
F- I used to swim or spin, but I get an extra CrossFit session each week for 8 weeks so now–
maybe 30 min of easy rowing or biking to help me wake up, and CrossFit in the afternoon
Sa- Long Run
Su- Walk/Rest
Looking at that makes me think that I need another rest day
  In 8 weeks, remind me I said that!  So for the next two weeks, my schedule will get a bit crazy and look more like this:
M- 6 mile tempo run
T- spin/row easy, CrossFit
W- spin/row easy, Group Fitness
Th- 4 mile repeats (1/4 mile warm up, 1 mile speed test, 1/4 mile jog, 1 mile speed test, 1/4 mile jog, 1 mile speed test, 1/4 mile cool)
F- spin/row easy, CrossFit
Sa- CrossFit
Su- Rest
and…
M- EAAARRRLLLYY CrossFit
Tu-  EAAARRRLLLYY CrossFit
W- Tackle the Hills of San Fran?
Th- 70s (I'm talking age here) Bike Club!! (usually a 20 mile ride or so)
F- 70s Bike Club, CrossFit Open WOD!!
Sa- Rest Day/Travel Day (need 10 min of activity for WLC point!)
Su- Walk/Rest
I'm a firm believer in changing things up every once and a while to keep yourself flexible…I think this should do the trick!
Before my 6 mile tempo this morning, I stuffed my face with two dates filled with Almond Butter.  I've decided these are ONLY allowed before a workout.  They are super packed with energy and healthy fats and natural sugars…but no bueno in the evenings!
Breakfast was 2 Eggs with Grapefruit
and my healthy pre-lunch snack…
I've decided my celery needs to be sliced much more thinly than this…it wrecked my jaw! (I have pretty severe TMJ/TMD)  In addition to the wretched celery, I had sliced cucumber and two tomatoes with some spinach and red pepper hummus.  Hummus is a fave of mine and legumes are allowed in this challenge
Lunch followed a few hours later along with a few pages of my book and some good conversation.
At the table, one of my co-workers brought in her extras (she is a caterer and always bringing in delicious dishes).  This week she had an order for Tamales, so the office got the remainders!
I did not have any because they are not WLC approved
But I'm not worried…I know they'll be coming through again in the future!
My appetite has been pretty constant today, because just a few hours later, I scarfed down 3 slices of nitrate free deli turkey with some Whole Guacamole wrapped up in the middle.  I ate it before I even thought about taking a picture.  Blogger fail…slow steps here people.  At least I remembered to photograph my lunch!!
Dinner took a while to prepare, but it was soo worth it!  Another ROAST CHICKEN!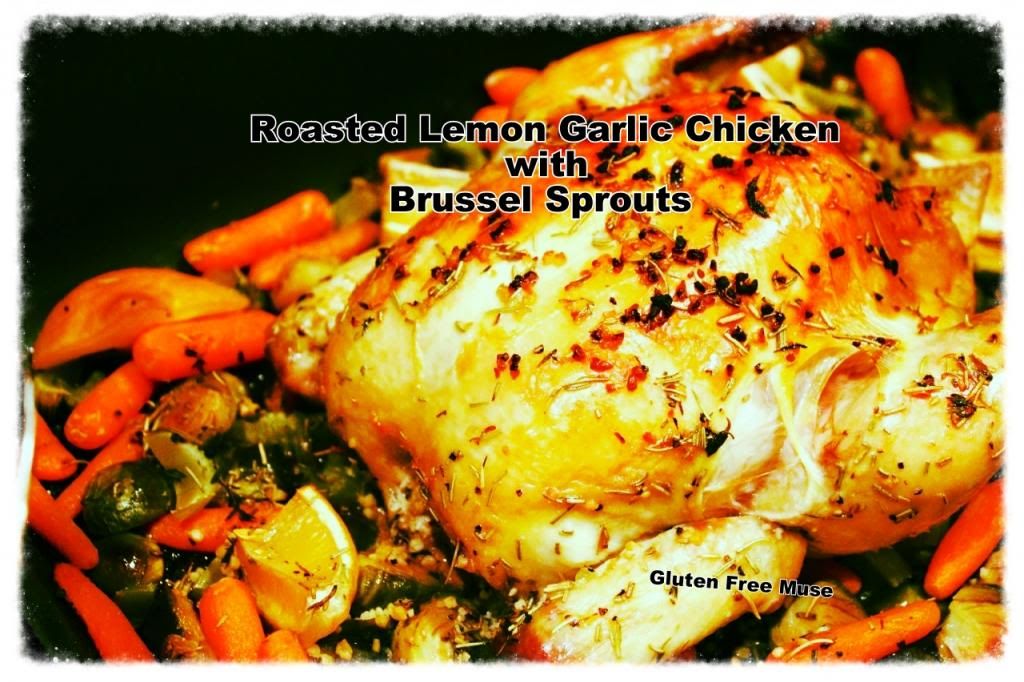 Roasted Garlic Lemon Chicken
- 1 whole roasting chicken
- 5 cloves garlic
- 6 Tbsp butter
- a bundle of Rosemary
- a bundle of Thyme
- Salt and Pepper
- 4 Tbsp olive oil
- 1/4 cup water
- 3 cups brussels sprouts
- 3 cups carrots (baby carrots are what I used)
- 1 cup sliced celery
- 2 lemons, quartered
Directions:  Preheat oven to 400 degrees.  Chop all veggies and place in the bottom of your roasting pan.  Sprinkle with thyme, rosemary, garlic and salt and pepper.  Top with pats of butter and add in 1/4 cup water to help steam the veggies.  Rise and dry your chicken, pull out the innards.  In a microwave safe bowl, place the remainder of the butter, some garlic and some of the thyme and rosemary.  Place in the microwave for 15-20 seconds until the butter is soft and combine.  Put half of the butter on top of the chicken and make sure it covers every surface. Put the remaining butter inside the chicken with 2 quarters of lemon and 2 bunches of herbs (one rosemary, one thyme).  Place the remaining lemon wedges in the roasting dish.  Place in the oven for 75 minutes.  When you pull it out of the oven, it should be beautifully browned and the internal temperature at 180 degrees.  The meat should literally fall off the bone
 Please, be sure to let the juices drip from your chin for the full effect.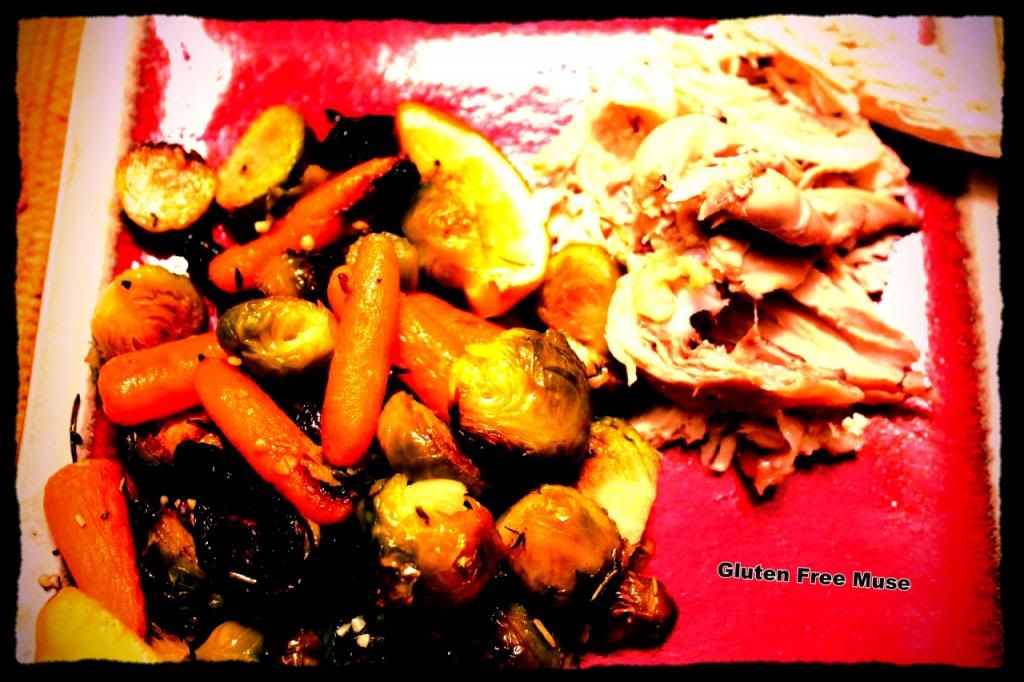 How was your day?  How do you balance your workout routines? 
xoxo
Alyssa