Special Valentine's Day Dinner
February 16, 2013
I'm a sucker!  I fell for the fake holiday YET AGAIN!  Darn you V-Day…you evil conniving commercial holiday!  But you are a great excuse to eat some divine and delicious items.  So for that, you are forgiven.  Until next time V-Day…watch your back!
I was planning on just getting Hubby some Esther Price Chocolates and a Card, but when he blatantly mentioned how excited he was about my V-Day gift (for me) and said he wouldn't spend more than $50 (WHA!?!), I felt compelled to return the favor.  Enter:  AMAZON Wish List to the rescue!
Life-Pro Tip:  Always have an Amazon wish list up to date with your most current wishes…you never know when someone will find an excuse to buy you a present
I decided on the RED toolbelt to seal the deal.  Oh, and to follow with the RED theme, so blood splatter Dexter coasters
Nothing says, "I love you" like vigilante serial killer coasters to save your wood furniture from paltry water stains!  Thanks, Dexter!
 and
My next surprise???  How about a steak house dinner!!??
I got a coupon in my email from Earthfare (the next best thing to Whole Foods) for a surf and turf deal (4 oz grassfed filet and 4 oz lobster tail) for $9!! Of course, I jumped on it and this was the aftermath!
Check that out!  We both voted it was better than our dinner at Flemings
 If anyone wants recipes for Roasted Asparagus, Steak House Cheesy Potatoes or Steak House Steak and Lobster, let me know…I'll happily post!
With the Lobster, some clarified buttah!
This meal was fab!  And for dessert, the funniest thing happened
Hubs and I have both given up sugar for the past month and we decided we would allow ourselves to have sugar on V-day!  So, I went and got a surprise for Hubs and he got a surprise for me…guess what we got each other!?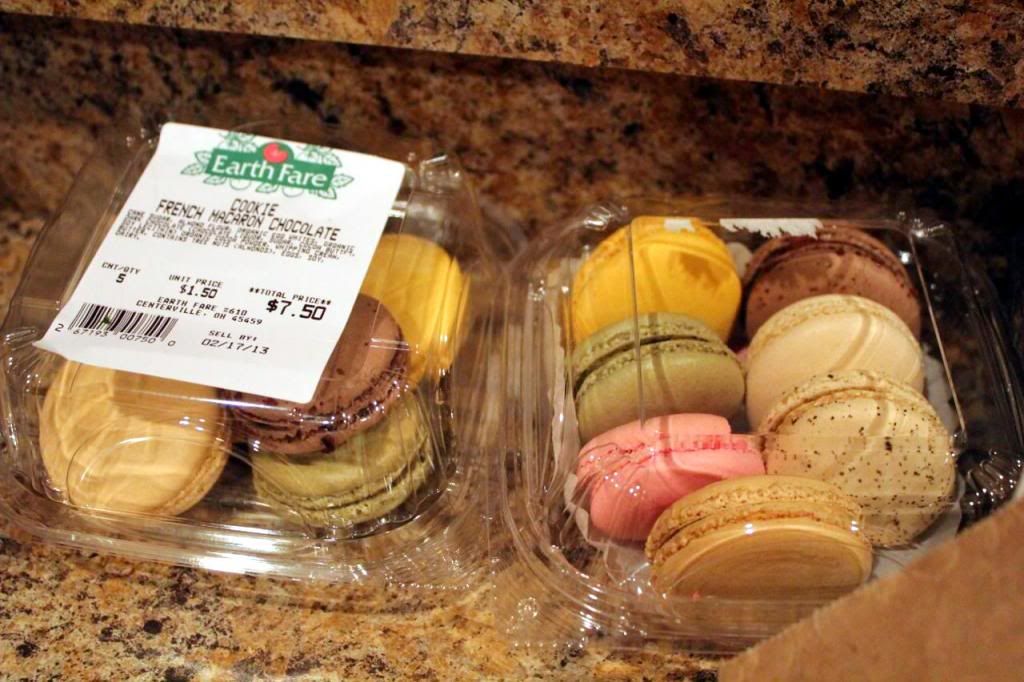 Great minds think alike!  I got Hubs some macaroons and he got me some
We love each other THAT much!
Oh, and I got some of these…
Great job Hubs! I love you!
Do you celebrate V-Day?  What did you do for Cupid's Birthday (I propose we change the day to Cupid's Birthday…maybe give it a bit more significance??)?